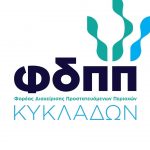 The project participates in a meeting organized by the Management Body of Cyclades Protected Areas on: "Getting to know the Andros' Natura 2000 sites: Sustainable Management, Challenges, Sustainable Solutions".
The meeting will take place on Monday, October 21 2019, from 18:00 to 21:00 in the Municipal Council Hall of Andros.
In the meeting the management body, its activities, the importance of the protected areas of the island, the problems they face will be presented, while solutions will be sought in collaboration with local authorities, production and scientific bodies and local and national organizations that are active on the island of Andros.
The conference schedule is available here (in Greek).
The meeting is being held in the context of the Green Fund's "Financial support of outreaching activities 2019" program.