A large part of the island, as well as of its surrounding marine environ­ment, is of particular value for biodiversity, not only at local and nation­al, but also at European level, and is part of the Natura 2000 network.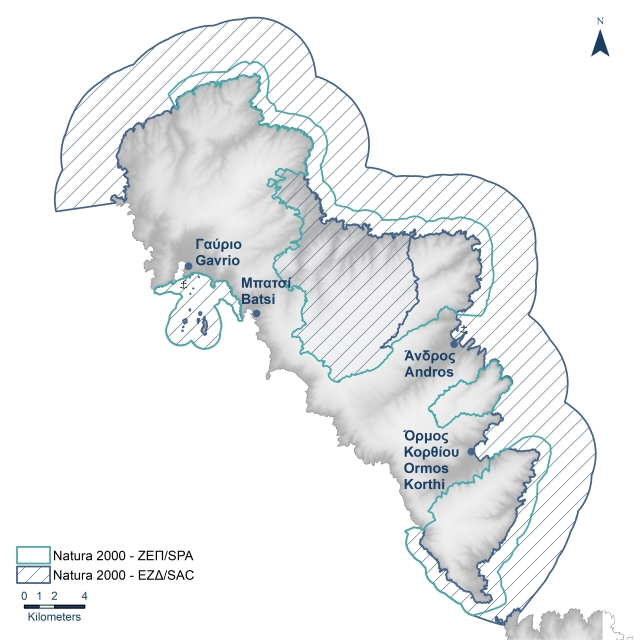 Three Natura 2000 sites have been established for the protection of Andros' special characteristics and the protected species and habitats it hosts. Among them are:
The vast Posidonia sea-grass beds found along its entire coastline in depths from 5 to 40 meters, as well as the rich in biodiversity coral for­mations at greater depths,
The Mediterranean monk seal (Monachus monachus), which is one of the most endangered marine mammal species in Europe,
Protected bird species, the most important of which are the Eleono­ra's falcon (Falco eleonorae), the Mediterranean shag (Phalacrocorax aristotelis), the Audouin's gull (Larus audouinii) and the Bonelli's eagle (Hieraaetus fasciatus),
The small areas of alluvial alder forests, unique in the Cyclades,
The areas of pseudo-steppe with grasses and annuals, important at European level,
Reptile and amphibian species, such as the western Caspian turtle and the four-lined rat snake and
The moth Jersey tiger (Callimorpha quadripunctaria).
If you are in Andros you may enjoy the Natura 2000 sites of the island with a visit to one of them!
During the visit with children
On the mountain, you may search for typical habitat plants and prepare your own herbarium. You may use this herbarium activity (in Greek).
At sea, you may collect remnants of marine organisms and other objects washed out by the sea to write on the shore. You may use this beach writing activity (in Greek).
If you are not in Andros, enjoy the Natura 2000 areas of Andros through a collection of photos:
The Natura 2000 network is a European Ecological Network of sites that host habitats and species important at European level. It is the largest network of protected sites worldwide.
* The activities are included in the Environmental Education Kit "In search of the natural treasures of the Special Protected Area of the Andros Island" (in Greek) created in the framework of the LIFE ANDROSSPA project. The Kit is available here.